Nourishing Daily Beard Wash - SandalWoody™
BYE-BYE BEARD DRUFF 👋
Smells Like👃: Sandalwood, Leather, Musk
Our foaming, sulfate-free beard wash deep cleans, hydrates and exfoliates – sloughing off dead, dry, itchy skin cells under your beard to prevent dreaded "beard druff".
☁️ Rich, foamy lather (Sulfate-FREE)
🍃 Packed with Aloe Vera, Jojoba & Argan Oils, Dead Sea Salts & Provitamin B2

🚿 Deep cleans

—

removing dirt, flakes & odor

🚫 NO stripping

—

hydrates & nourishes both beard & skin underneath

〰️ Smooths, softens & conditions brittle, dry beard hair & skin
🏆 Promotes thicker, fuller-looking beard
5 FL. OZ | 150 ML
Soak your face and beard first! Massage 1-2 pumps onto wet face and beard until you have a foamy lather. Option to comb through your beard for deeper conditioning. Rinse well with warm water until there are no more suds. Pat dry. (Using in shower is recommended).
WARNING: For external use only. Keep out of reach of children. Avoid contact with eyes. In case of contact with eyes, rinse immediately.
Aqua, Cocamidopropyl Betaine, Coco Glucoside, Aloe Barbadensis, Glycerin, Maris Sal (Dead Sea Salt), Hydrolyzed jojoba protein, Argania Spinosa (Argan) Kernal Oil, 100% Pure Dudeness, Simmondsia Chinensis (Jojoba) Seed Oil, Fragrance, Benzylalcohol-DHA, D-panthenol (ProVitamin B5), Xanthan Gum, Citric Acid.
Bye-Bye Beard Druff!
---
The hair on your beard is different than the hair on your face and your body. Dude, you need a beard wash, and no, not a shampoo, bar of soap or body wash that will strip your skin and beard dry and lead to itchy flakey skin and beardruff.
Remove the bad and keep the good with Nourishing Daily Beard Wash, formulated with Nutri-Beard Complex™ to
gently remove dirt and grime while retaining natural oils for a softer, fuller, healthier-looking beard.
• Rich, foamy lather
• Cleanse without drying beard or skin
• Prevent beard druff (aka beard dandruff)
• Soften & nourish beard


ADD TO CART
They Say Men Are Dogs
---
Studies show that dogs are cleaner than the average
man's beard. Yep. That means your best friend, who's on the floor licking himself right now, is cleaner than your beard. Dude, you need to feed your face a foamy explosion of goodness called Derm Dude. Use it. Every single day.
Take care of it and it will take care of you.
Potent Ingredients That Work
---
Argan Oil
Superfood hydrator for face & beard that helps soothe and calm skin and promote a healthy shine
Jojoba Protein
Deep cleans skin and beard while helping to replenish and condition damaged facial hair
Jojoba Oil
Conditions & softens both facial hair and skin while strengthening the hair and cleaning the hair follicle, which helps maintain a healthy-looking beard
Aloe
Known for its healing properties, helps to calm itchy skin and promote a healthier, flake-free beard
Provitamin B2
Helps to support hair elasticity for a smoother-looking beard
TRUSTED BY PROS. LOVED BY DUDES.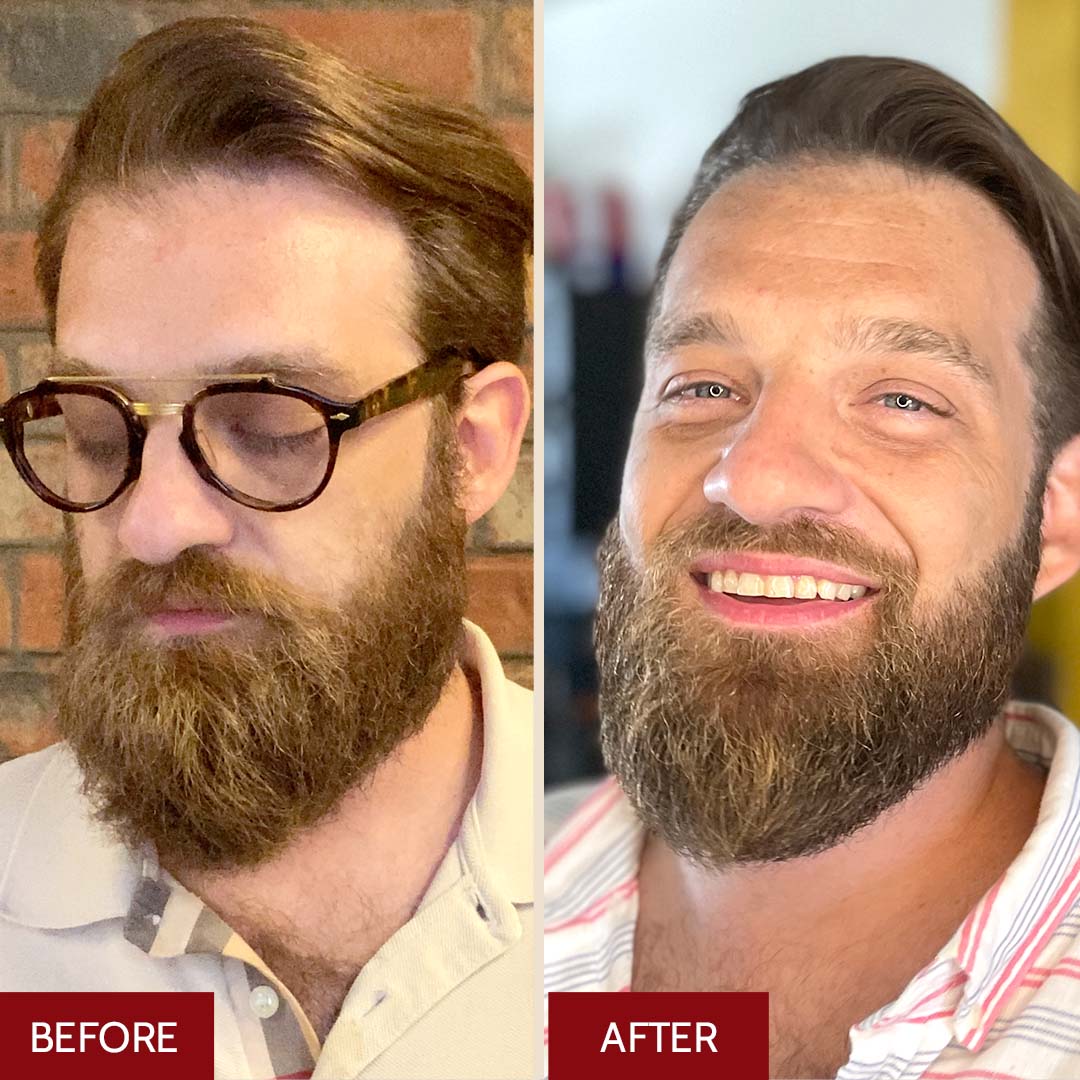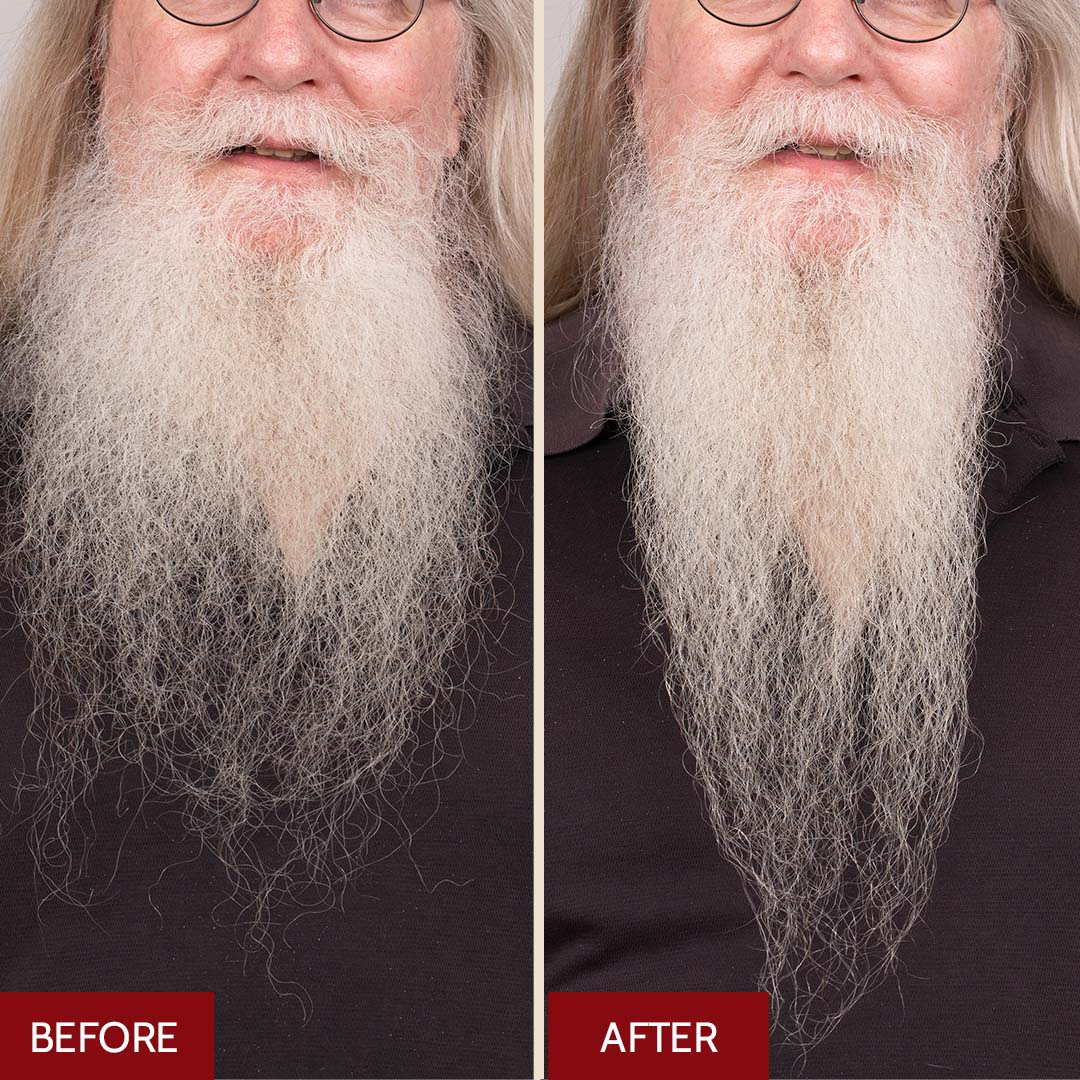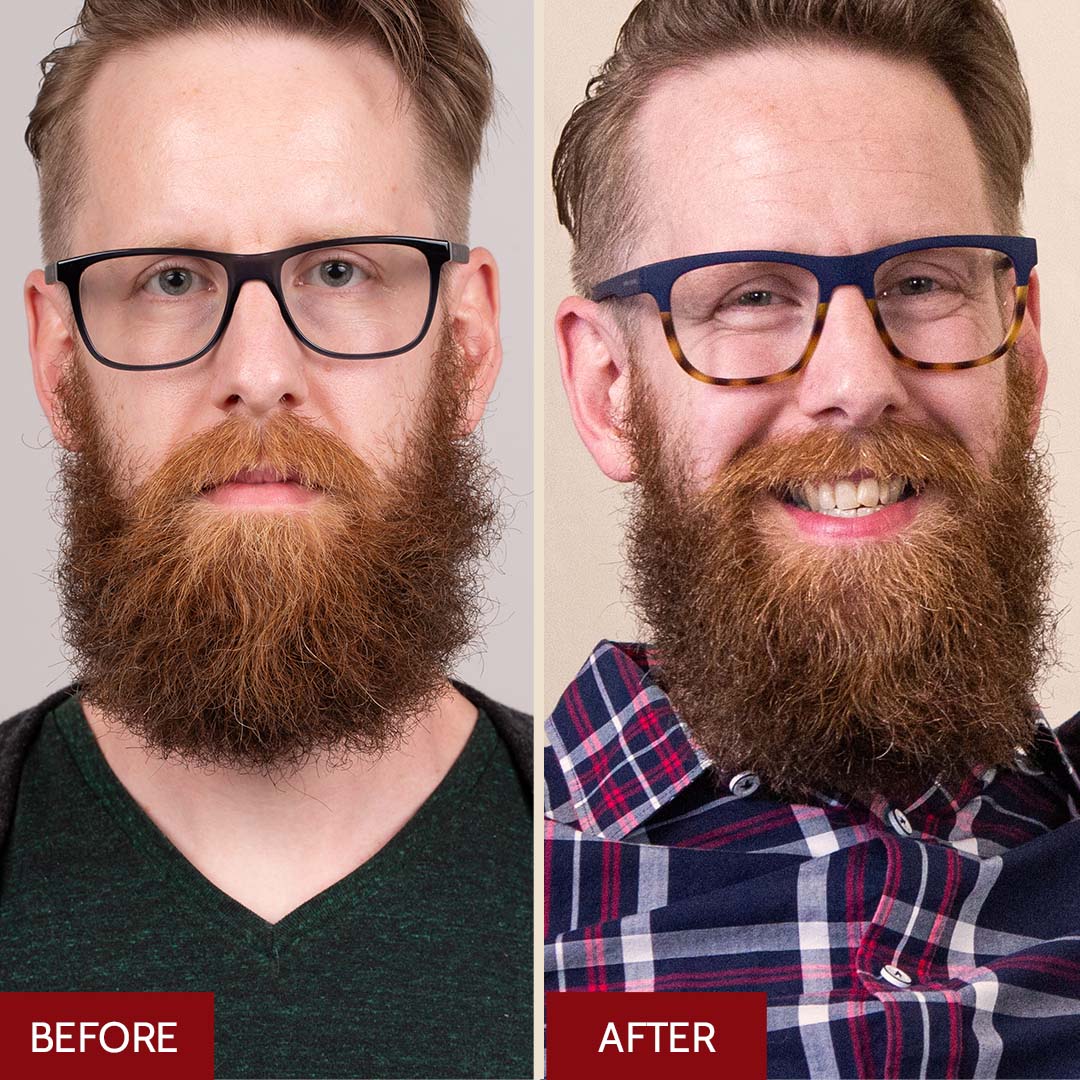 Results may vary.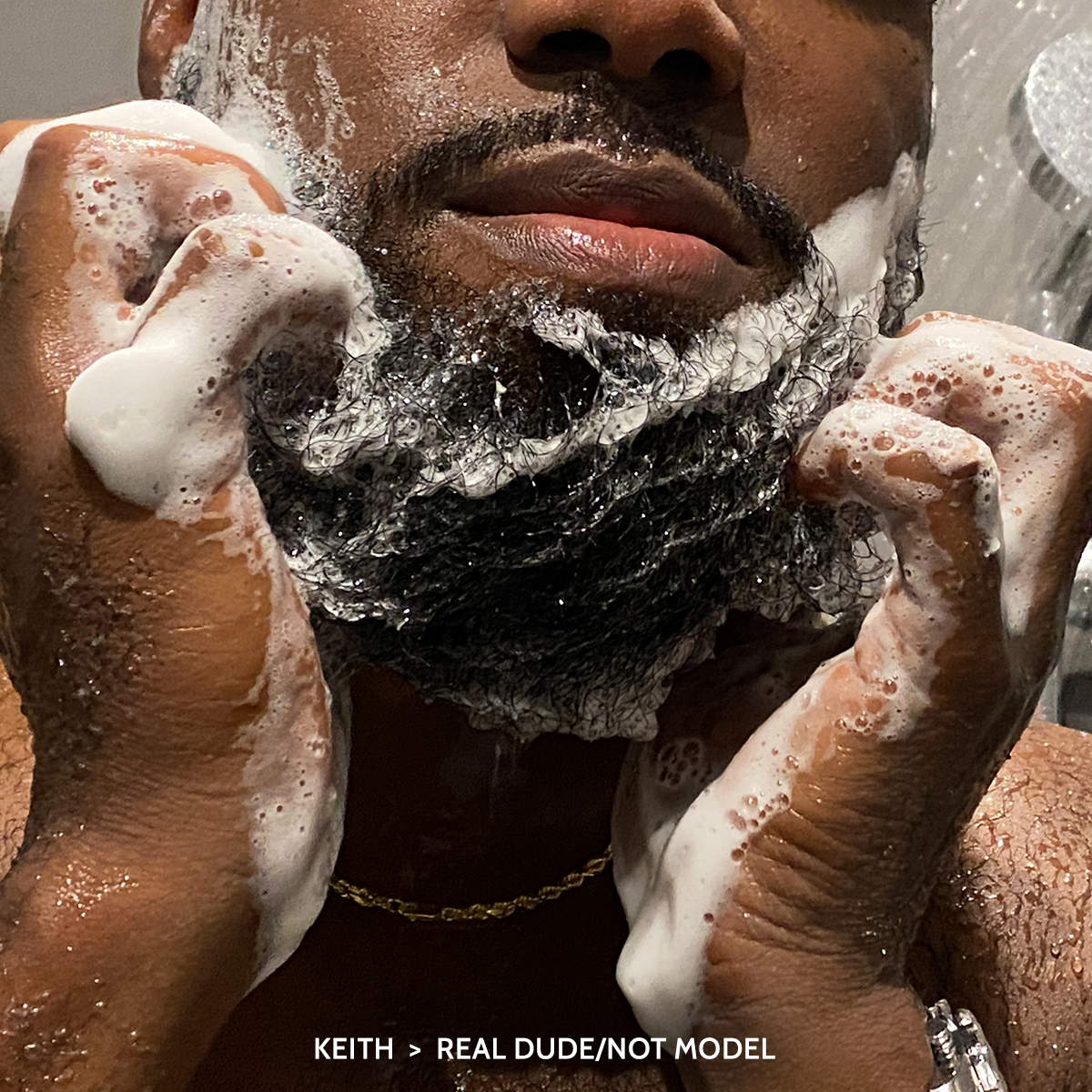 BYE-BYE BEARD DRUFF
Beard hair is different than head and body hair! Shampoo, bar soap, or body wash will ruin your beard—stripping your skin and beard dry of essential oils, leading to "beard druff" (itchy, flakey skin).
Derm Dude's™ Nutri-Beard Complex™ removes the bad and keeps the good:
🧽 REMOVES dirt & grime gently
💧 RETAINS natural oils
🛑 PREVENTS "beard druff"
👍 PROMOTES softer, fuller, thicker-looking beard
🎁 GIVES you beard-envy
FACT: YOUR BEARD HAS MORE GERMS THAN A DOG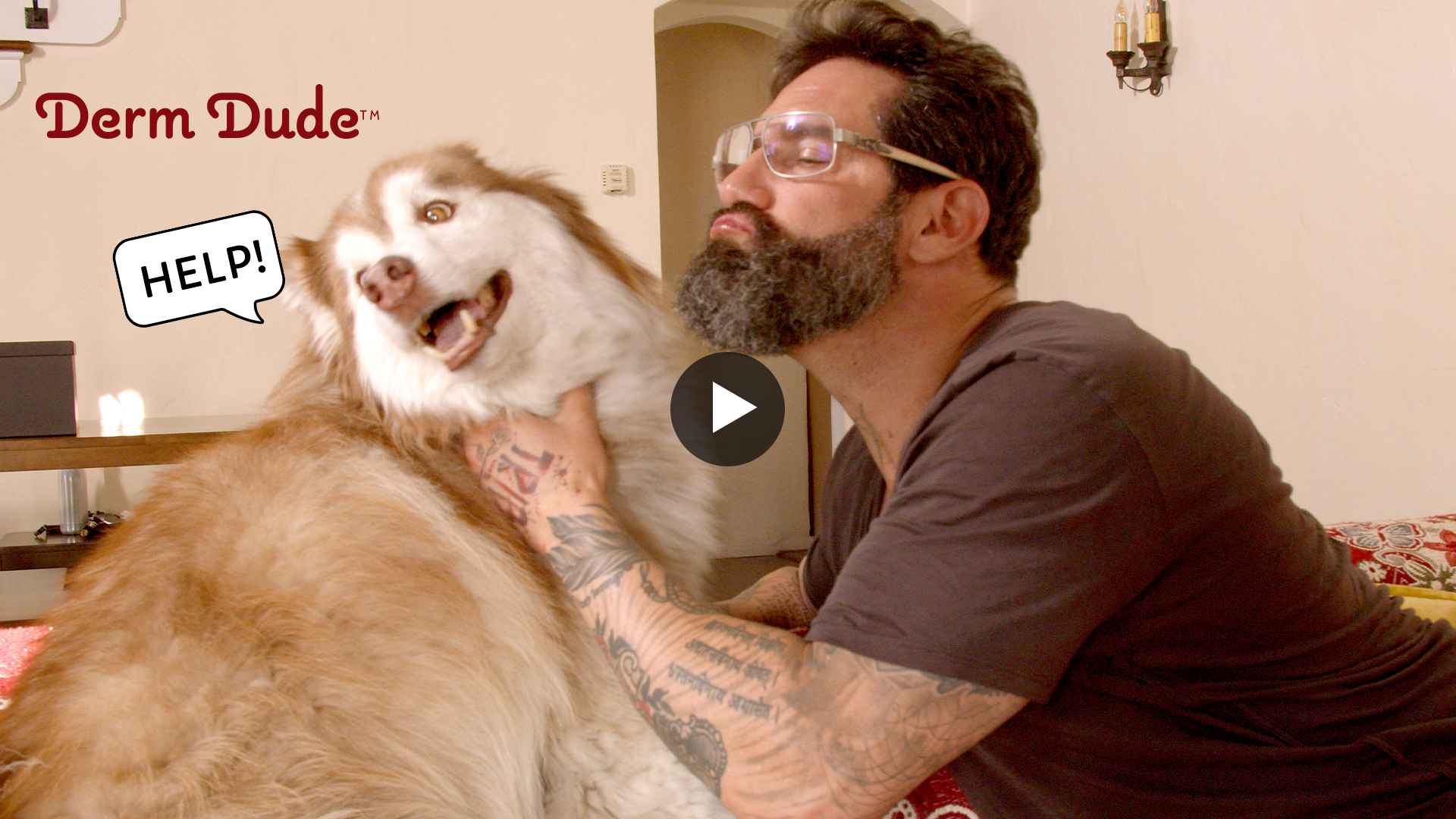 QUESTIONS? WE'VE GOT ANSWERS.
Beard wash
This is a beard wash and it does its job. 5 stars.
It makes my beard feel and smell fresher every day.
This beard wash makes my beard actually FEEL better and SMELL better. The smell isn't strong and doesn't smell artificial, it just smells good and natural. Plus, I find it easier to manage my beard after washing with this vs regular shampoo.
Doesn't overpower other product scents
The smell of this product is good, but it doesn't linger. I love that because it doesn't conflict with the beard oil and balm that I use. It makes it easier to control what I want to smell like during the day.
Not a sham or poo, just a wash. Does great.
To play on a theme, they take the sham and the poo out of shampoo and just leave you with an amazing all natural beard wash. It does a great job and doesn't smell like poo. Love it.
Best beard care brand. Period. Can't wait to see what's next.
This is the best beard care brand I've ever used before. Not even close. The beard wash, the beard oil, and the beard balm are all amazing. I might try some of the other stuff from this brand now, even though I wouldn't normally buy some of those things.
Smells Great.
This just appeared in my shower one day. Turns out my wife was trying to send me a hint. Been using it for about 3 week snow, and so far the results have been obvious. Face feels less itchy, and where I used to be able to see a fair amount of flakes I really don't see those anymore. Wife seemed pleased, but like a drug dealers told me the next purchase was my responsibility. I think I'm about 20% though the bottle, but I don't want to risk running out. So I just ordered two more.
Worked within a week.
Found this product from googling beard Dandruff. Seemed like it targeted the face flake issues I was having, so gave figured I would give it a try. It shipped with in a few days. With-in about a week (Maybe sooner) I went from having flakes fall from my face if I just shook my head, to being able to run a fine tooth comb though my beard and have it come out clean. Face doesn't itch as much either. So impressed I'm going to try out their other products as well, I'll report back.
FREE SHIPPING ON ORDERS OVER $35
Cart expires in
00:00
minutes!