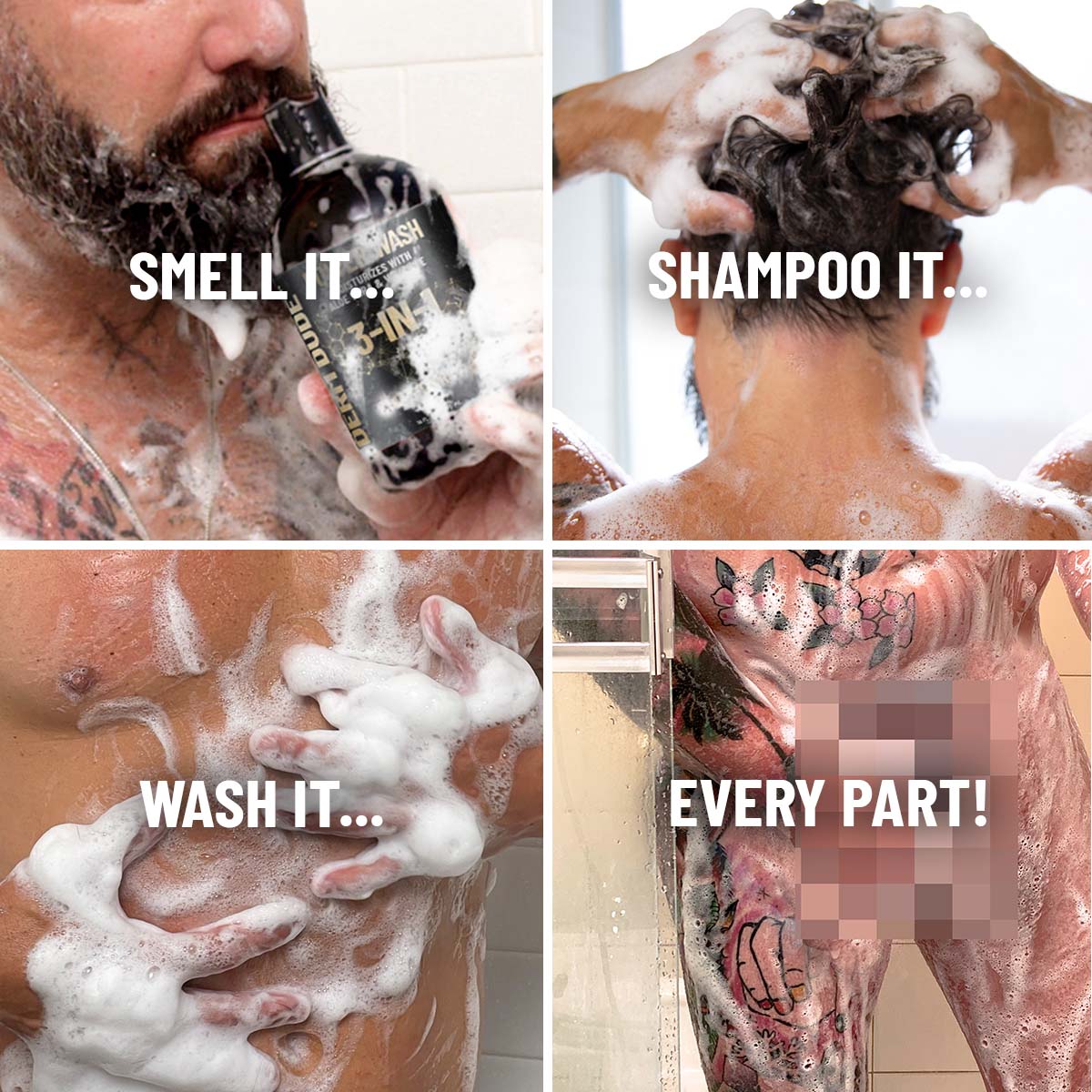 FACT: DUDES LIKE SIMPLE!
Use daily and wham, bam, thank you ma'am (or dude) – you're good to go!
TOP O' THE MORNIN' TO YA!
This crisp, woody scent gives new meaning to 'rise and shine', helping you unleash your inner grizzly, ready to conquer any mountain (or crowded elevator ride).
Smells like: 
🌲 Evergreen woods 
🏞 Clean mountain air
💦 Crystal clear lakes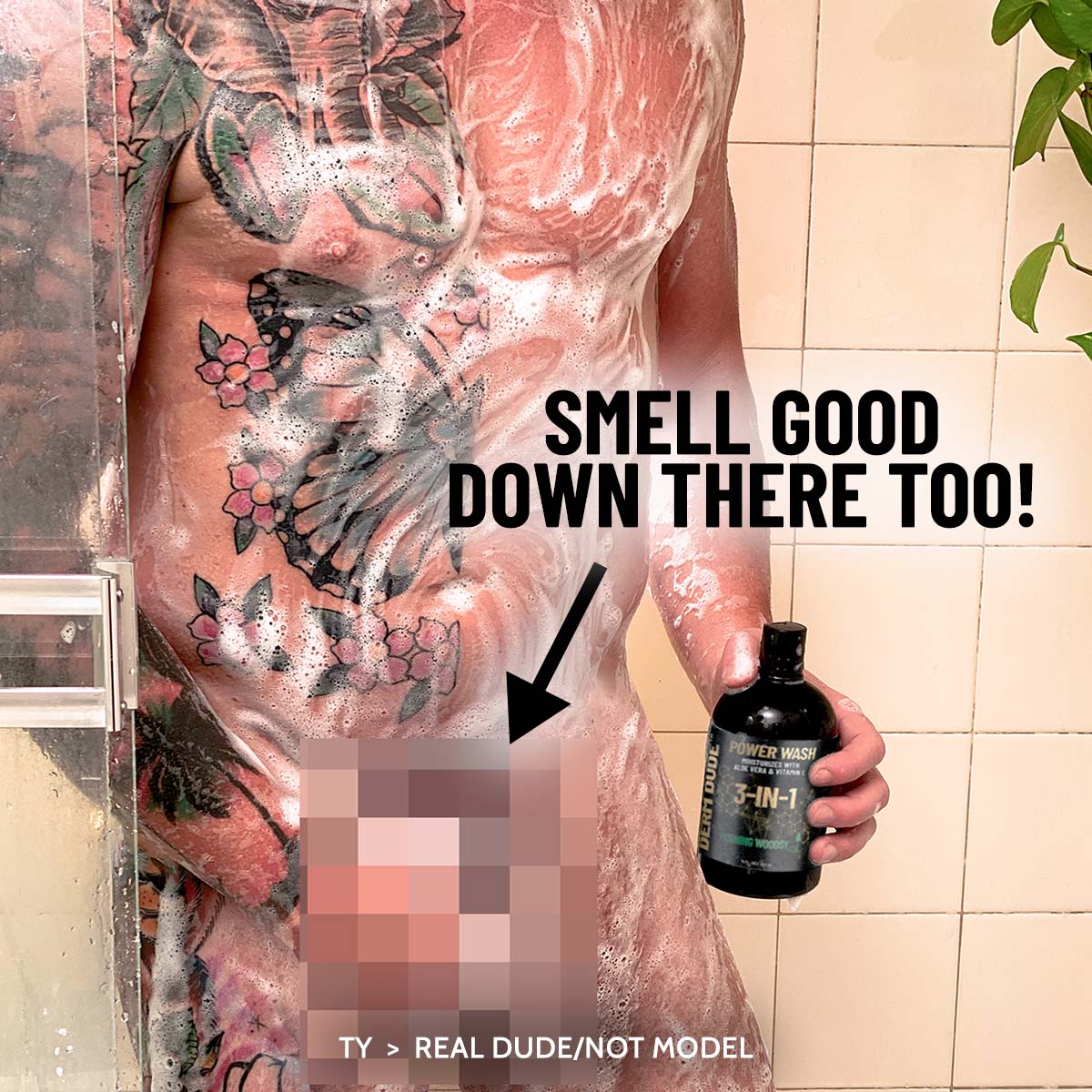 QUESTIONS? WE'VE GOT ANSWERS.
Bye-Bye Beard Druff!
---
The hair on your beard is different than the hair on your face and your body. Dude, you need a beard wash, and no, not a shampoo, bar of soap or body wash that will strip your skin and beard dry and lead to itchy flakey skin and beardruff.
Remove the bad and keep the good with Nourishing Daily Beard Wash, formulated with Nutri-Beard Complex™ to
gently remove dirt and grime while retaining natural oils for a softer, fuller, healthier-looking beard.
• Rich, foamy lather
• Cleanse without drying beard or skin
• Prevent beard druff (aka beard dandruff)
• Soften & nourish beard


ADD TO CART
They Say Men Are Dogs
---
Studies show that dogs are cleaner than the average
man's beard. Yep. That means your best friend, who's on the floor licking himself right now, is cleaner than your beard. Dude, you need to feed your face a foamy explosion of goodness called Derm Dude. Use it. Every single day.
Take care of it and it will take care of you.
Potent Ingredients That Work
---
Argan Oil
Superfood hydrator for face & beard that helps soothe and calm skin and promote a healthy shine
Jojoba Protein
Deep cleans skin and beard while helping to replenish and condition damaged facial hair
Jojoba Oil
Conditions & softens both facial hair and skin while strengthening the hair and cleaning the hair follicle, which helps maintain a healthy-looking beard
Aloe
Known for its healing properties, helps to calm itchy skin and promote a healthier, flake-free beard
Provitamin B2
Helps to support hair elasticity for a smoother-looking beard
BEST PRODUCT EVER
I love the body wash. The tattoo Balm is amazing as well. sharing with all my stinky dude friends. ")
3 in 1 body wash
I like it but the deodorant that you sent me doesn't smell at all like the body wash. FYU, love the deodorant smell.
DUDE!
This is a product I've been looking for. This 3 in 1 shampoo, conditioner, and body wash smells freaking amazing and is high quality. The smell is refreshing and reminds me of my childhood growing up in the forest. Truly amazing product, I can't wait to try the other scents!
Don't forget
Don't forget to get this stuff, I like the smell and the feel of it.
My kids like it too
If the kids like it, you'd better believe that I will continue buying it and using it. It works well for me too.
Refreshing smell
If a smell coming from a soap can be classified as refreshing, the team at Derm Dude hit the mark. The smell is very refreshing.
Got rid of my beard dandruff
I was suffering from beard druff, which is when white flakes fall out of your beard, but then I discovered Derm Dude. I started using the beard wash, but now I use the power wash and cover it all.
FREE SHIPPING ON ORDERS OVER $60
Cart expires in
00:00
minutes!