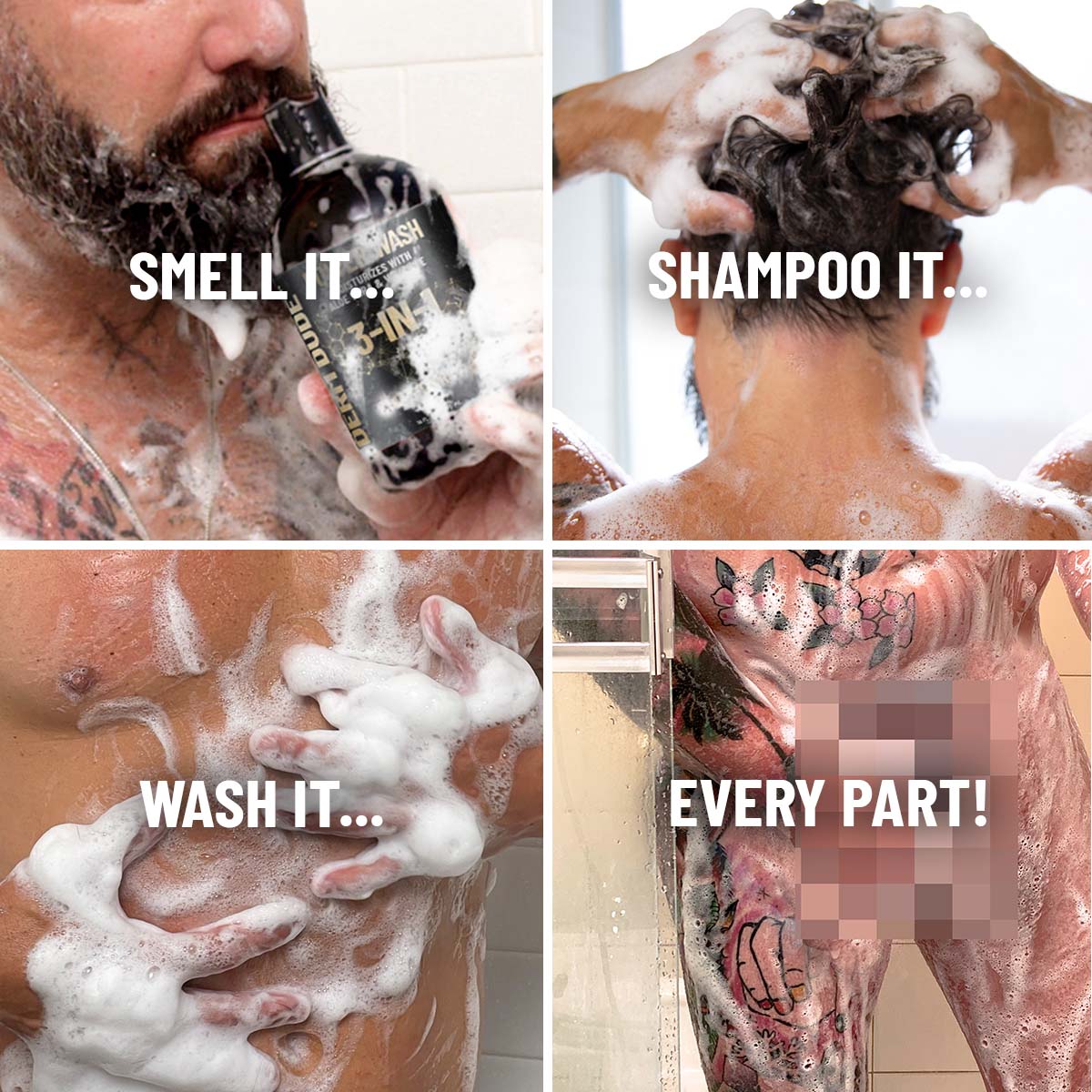 FACT: DUDES LIKE SIMPLE!
Use daily and wham, bam, thank you ma'am (or dude) – you're good to go!
TURN EVERY SHOWER INTO HAPPY HOUR. 🏖🍹
Ya got your toes in the water, and your ass in the sand, suckin' down smooth island rum to the chill vibe of steel drums. Nope. 🙄You're in dead-stop city traffic watching some guy pick his nose. But hey, Dude…feeling and smelling like you're in Kokomo never sucks. #coconuts
Smells like:
🥥 Rum & Coconut
🏝 Tropical Breeze
😎Sun & Suntan lotion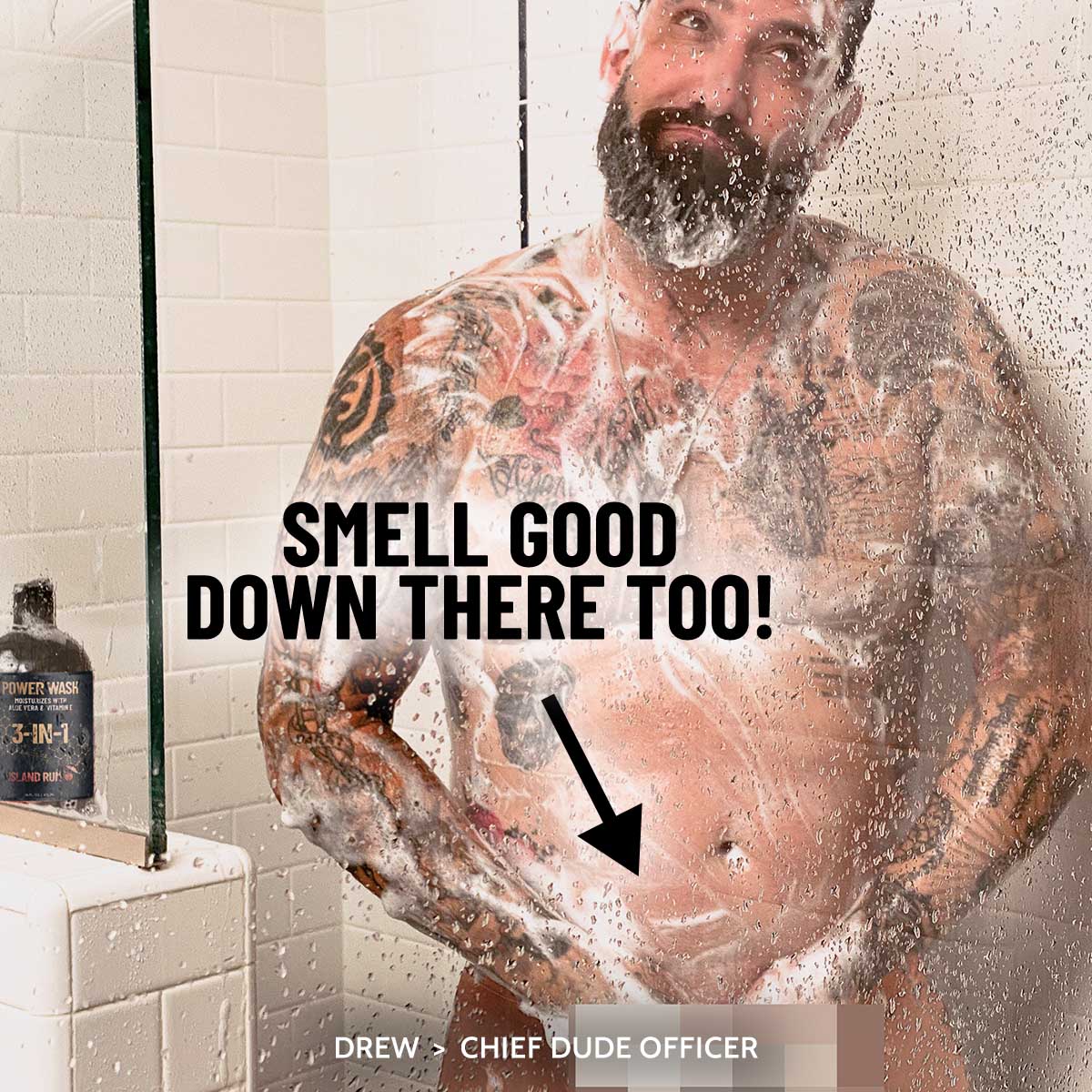 QUESTIONS? WE'VE GOT ANSWERS.
Bye-Bye Beard Druff!
---
The hair on your beard is different than the hair on your face and your body. Dude, you need a beard wash, and no, not a shampoo, bar of soap or body wash that will strip your skin and beard dry and lead to itchy flakey skin and beardruff.
Remove the bad and keep the good with Nourishing Daily Beard Wash, formulated with Nutri-Beard Complex™ to
gently remove dirt and grime while retaining natural oils for a softer, fuller, healthier-looking beard.
• Rich, foamy lather
• Cleanse without drying beard or skin
• Prevent beard druff (aka beard dandruff)
• Soften & nourish beard


ADD TO CART
They Say Men Are Dogs
---
Studies show that dogs are cleaner than the average
man's beard. Yep. That means your best friend, who's on the floor licking himself right now, is cleaner than your beard. Dude, you need to feed your face a foamy explosion of goodness called Derm Dude. Use it. Every single day.
Take care of it and it will take care of you.
Potent Ingredients That Work
---
Argan Oil
Superfood hydrator for face & beard that helps soothe and calm skin and promote a healthy shine
Jojoba Protein
Deep cleans skin and beard while helping to replenish and condition damaged facial hair
Jojoba Oil
Conditions & softens both facial hair and skin while strengthening the hair and cleaning the hair follicle, which helps maintain a healthy-looking beard
Aloe
Known for its healing properties, helps to calm itchy skin and promote a healthier, flake-free beard
Provitamin B2
Helps to support hair elasticity for a smoother-looking beard
BEST PRODUCT EVER
I love the body wash. The tattoo Balm is amazing as well. sharing with all my stinky dude friends. ")
3 in 1 body wash
I like it but the deodorant that you sent me doesn't smell at all like the body wash. FYU, love the deodorant smell.
Aweseome
I have very dry skin and this body wash is very moisturizing. I like the scent too because it's subtle and not a perfume-smell like others.
Incredible multi use soap.
Can't say enough good about this multi-use body wash combo.
Works great as hand soap too!
I like the smell, and since it's an all-in-one product, I figured it could work well as a hand soap too. So I stuck a pump in the top of the bottle and now I use it as a hand soap too at my sink.
Good for the gym
Love the name! Smells rad. Love using one thing for everything. Easy in the mornings after I hit the gym
FREE SHIPPING ON ORDERS OVER $60
Cart expires in
00:00
minutes!