3-in-1 Power Wash - Island Rum
LIFE IS FULL OF ASSHOLES. DON'T  SMELL LIKE ONE! 😉

Smells Like: Coconut, Rum, Suntan Lotion

Derm Dude's multi-tasking 3-in-1 Shampoo, Conditioner & Body Wash tackles every piece of man from head-to-toe (sack & crack included).Feel and smell like you're on vacation 365, 24/7 with our classic Island Rum scent.
⏰ Made for dudes who don't waste time & want convenience
🚿 Removes dirt, grime & sweat
💪 Deep cleans without stripping
💩 Deodorizes head-to-toe
👊 Softens, restores & protects hair & skin
16 FL. OZ. | 475 ML
Wet hair and skin with warm water. Generously lather on hair and body, washing thoroughly over entire body (in every crevice) and scalp. Rinse well.
WARNING: For external use only. Keep out of reach of children. If any irritation occurs, discontinue use. In case of contact with eyes, rinse immediately.
Warm/Hot Water, Guar Hydroxypropyltrimonium Chloride, Hydroxyethyl Cellulose, Xanthan Gum, Citric Acid 50%, Cocamidopropyl Betaine, Decyl Glucoside, Plant-Based Glycerin, Sunflower Oil, Benzoic Acid, Propandiol, Sorbitan Caprylate, Vitamin E, Aloe Extract, Lemon Peel Extract, Citrus Orange Peel Oil, Fragrance.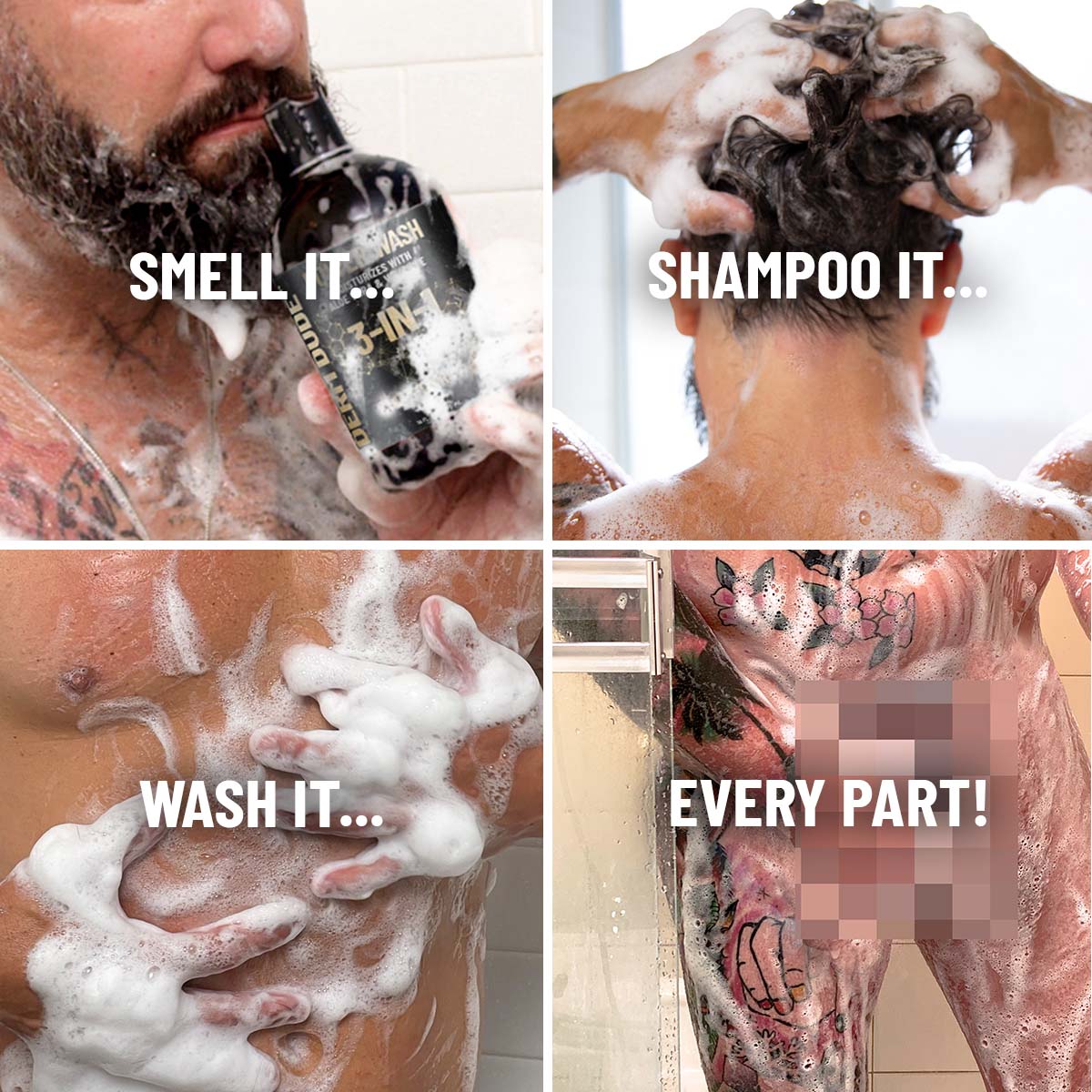 FACT: DUDES LIKE SIMPLE!
Use daily and wham, bam, thank you ma'am (or dude) – you're good to go!
TURN EVERY SHOWER INTO HAPPY HOUR. 🏖🍹
Ya got your toes in the water, and your ass in the sand, suckin' down smooth island rum to the chill vibe of steel drums. Nope. 🙄You're in dead-stop city traffic watching some guy pick his nose. But hey, Dude…feeling and smelling like you're in Kokomo never sucks. #coconuts
Smells like:
🥥 Rum & Coconut
🏝 Tropical Breeze
😎Sun & Suntan lotion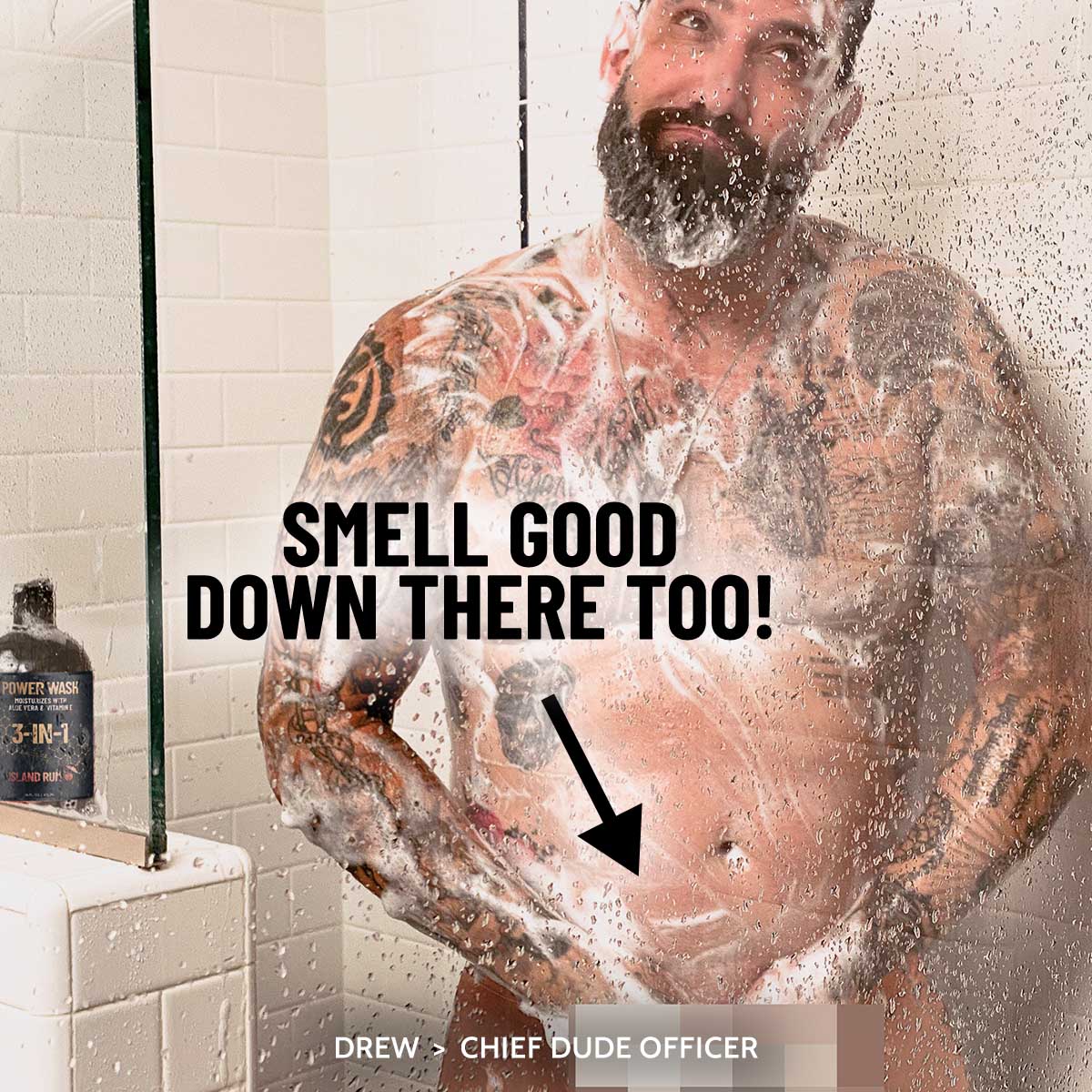 QUESTIONS? WE'VE GOT ANSWERS.
Bye-Bye Beard Druff!
---
The hair on your beard is different than the hair on your face and your body. Dude, you need a beard wash, and no, not a shampoo, bar of soap or body wash that will strip your skin and beard dry and lead to itchy flakey skin and beardruff.
Remove the bad and keep the good with Nourishing Daily Beard Wash, formulated with Nutri-Beard Complex™ to
gently remove dirt and grime while retaining natural oils for a softer, fuller, healthier-looking beard.
• Rich, foamy lather
• Cleanse without drying beard or skin
• Prevent beard druff (aka beard dandruff)
• Soften & nourish beard


ADD TO CART
They Say Men Are Dogs
---
Studies show that dogs are cleaner than the average
man's beard. Yep. That means your best friend, who's on the floor licking himself right now, is cleaner than your beard. Dude, you need to feed your face a foamy explosion of goodness called Derm Dude. Use it. Every single day.
Take care of it and it will take care of you.
Potent Ingredients That Work
---
Argan Oil
Superfood hydrator for face & beard that helps soothe and calm skin and promote a healthy shine
Jojoba Protein
Deep cleans skin and beard while helping to replenish and condition damaged facial hair
Jojoba Oil
Conditions & softens both facial hair and skin while strengthening the hair and cleaning the hair follicle, which helps maintain a healthy-looking beard
Aloe
Known for its healing properties, helps to calm itchy skin and promote a healthier, flake-free beard
Provitamin B2
Helps to support hair elasticity for a smoother-looking beard
Swamp nuts
Professional drive for a living, work pants and sitting all day and you can get a little funky. Been using the balls wash, cream and refresher bundle and it's made a difference. Def got rid of that swamp nuts and keeps me cool and clean and calm for the day. Will def be back for more
Fast shipping
It's great when companies ship out your product the same day you order it. That's some great customer service right there.
Orde4
I am loving it I love the island rum shampoo wish there was a cologne of it I could get from you I love the spray that has the refreshing smell used it a lot when you g out with my Girlfriend lo e the happy sack stuff as well my 🏀🏀 are thanking me
BEST PRODUCT EVER
I love the body wash. The tattoo Balm is amazing as well. sharing with all my stinky dude friends. ")
3 in 1 body wash
I like it but the deodorant that you sent me doesn't smell at all like the body wash. FYU, love the deodorant smell.
FREE SHIPPING ON ORDERS OVER $60
30 Day NO B.S. Guarantee 👊
Cart expires in
00:00
minutes!