3-IN-1 Power Wash - Alpine Breeze
LIFE IS FULL OF ASSHOLES. DON'T  SMELL LIKE ONE! 😉

Smells Like👃: Evergreen woods, Cypress, Mountain Air
Derm Dude's multi-tasking 3-in-1 Shampoo, Conditioner & Body Wash tackles every piece of man from head-to-toe (sack & crack included) with an invigorating Alpine Breeze scent.

⏰ Made for dudes who don't waste time & want convenience
🚿 Removes dirt, grime & sweat
💪 Deep cleans without stripping
💩 Deodorizes head-to-toe
👊 Softens, restores & protects hair & skin
16 FL. OZ. | 475 ML
Wet hair and skin with warm water. Generously lather on hair and body, washing thoroughly over entire body (in every crevice) and scalp. Rinse well.
WARNING: For external use only. Keep out of reach of children. If any irritation occurs, discontinue use. In case of contact with eyes, rinse immediately.
Warm/Hot Water, Guar Hydroxypropyltrimonium Chloride, Hydroxyethyl Cellulose, Xanthan Gum, Citric Acid 50%, Cocamidopropyl Betaine, Decyl Glucoside, Plant-Based Glycerin, Sunflower Oil, Benzoic Acid, Propandiol, Sorbitan Caprylate, Vitamin E, Aloe Extract, Lemon Peel Extract, Citrus Orange Peel Oil, Fragrance.
Bye-Bye Beard Druff!
---
The hair on your beard is different than the hair on your face and your body. Dude, you need a beard wash, and no, not a shampoo, bar of soap or body wash that will strip your skin and beard dry and lead to itchy flakey skin and beardruff.
Remove the bad and keep the good with Nourishing Daily Beard Wash, formulated with Nutri-Beard Complex™ to
gently remove dirt and grime while retaining natural oils for a softer, fuller, healthier-looking beard.
• Rich, foamy lather
• Cleanse without drying beard or skin
• Prevent beard druff (aka beard dandruff)
• Soften & nourish beard


ADD TO CART
They Say Men Are Dogs
---
Studies show that dogs are cleaner than the average
man's beard. Yep. That means your best friend, who's on the floor licking himself right now, is cleaner than your beard. Dude, you need to feed your face a foamy explosion of goodness called Derm Dude. Use it. Every single day.
Take care of it and it will take care of you.
Potent Ingredients That Work
---
Argan Oil
Superfood hydrator for face & beard that helps soothe and calm skin and promote a healthy shine
Jojoba Protein
Deep cleans skin and beard while helping to replenish and condition damaged facial hair
Jojoba Oil
Conditions & softens both facial hair and skin while strengthening the hair and cleaning the hair follicle, which helps maintain a healthy-looking beard
Aloe
Known for its healing properties, helps to calm itchy skin and promote a healthier, flake-free beard
Provitamin B2
Helps to support hair elasticity for a smoother-looking beard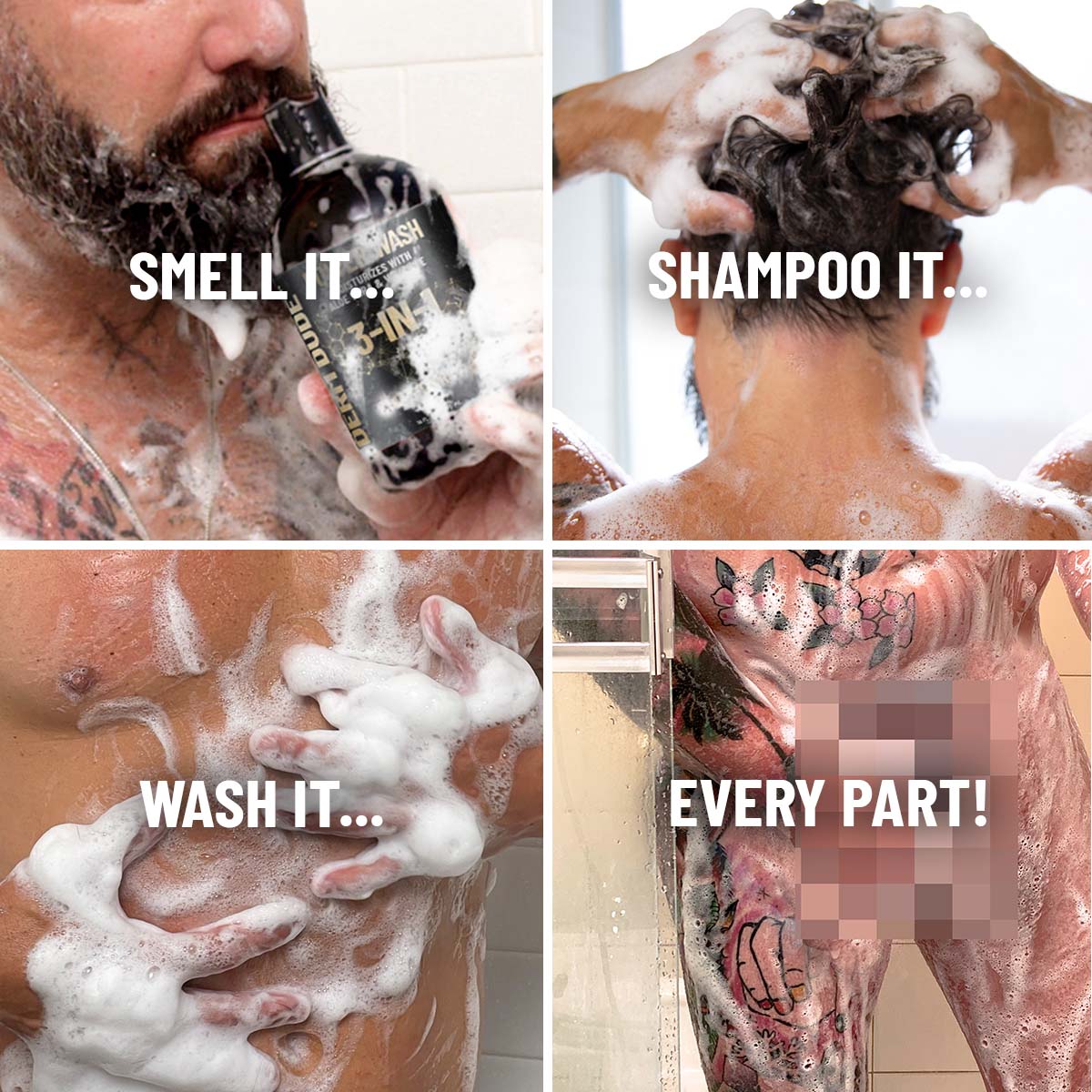 FACT: DUDES LIKE SIMPLE!
Use daily and wham, bam, thank you ma'am (or dude) – you're good to go!
CRISP. CLEAN. PEAK PERFORMANCE.
What's better than the refreshing, brisk, cool mountain breeze from the Alps? Now, imagine it on your sack and crack 🍒🍑. Sounds amazing, right? Trust us, it'll feel good everywhere on your body. That's why we bottled it. (Plus, it's a lot safer than frostbite on your balls🥶). 
Smells like:
🌲 Evergreen woods 
❄️ Clean, crisp mountain air 
🏔 Fresh, powdery slopes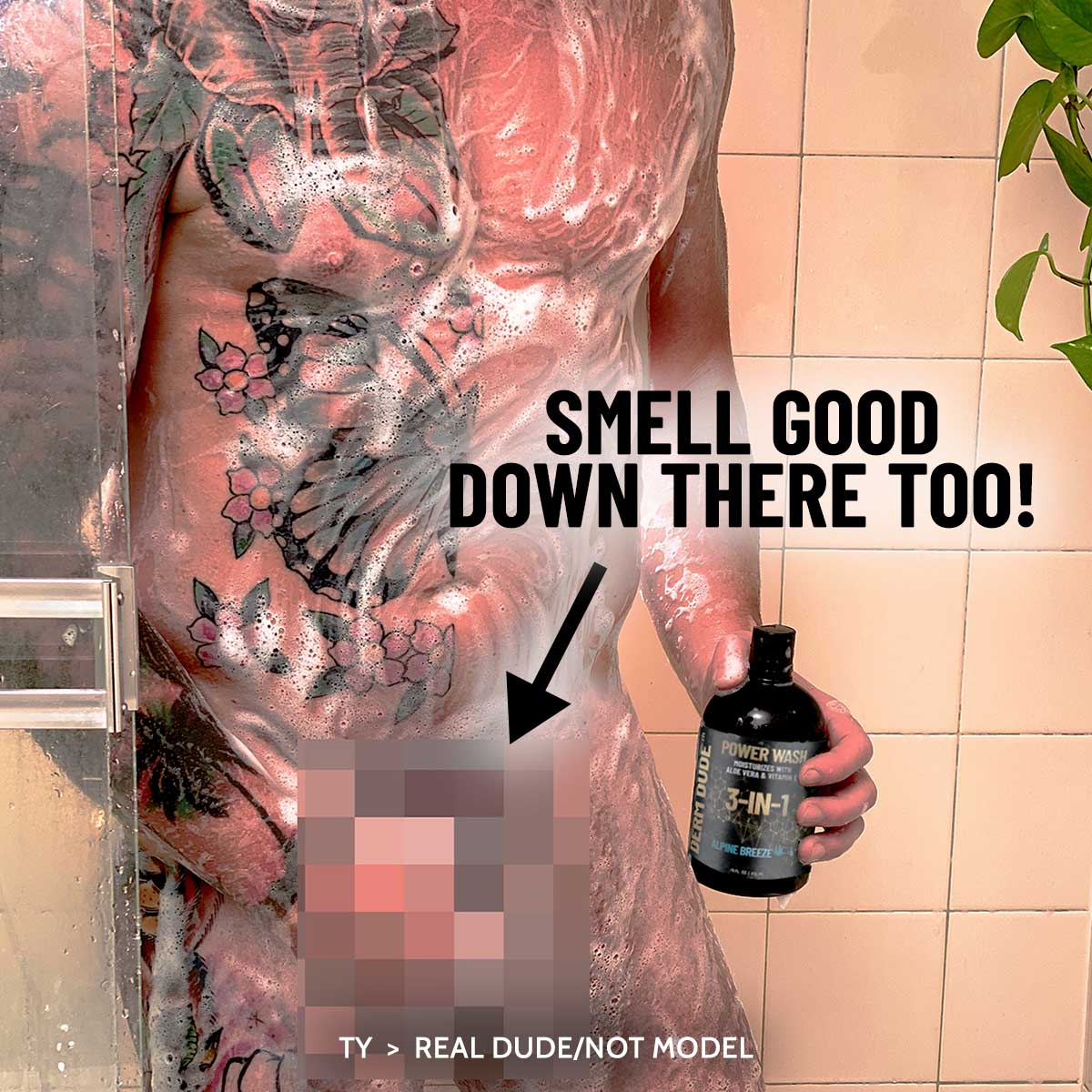 QUESTIONS? WE'VE GOT ANSWERS.
I get this for my kids.
My kid all started using this in the shower because they like the smell. So now, I just buy it for them as well.
My kids like it too
If the kids like it, you'd better believe that I will continue buying it and using it. It works well for me too.
Love this natural soap.
Soap makes it seem like a bar, which it's not. But it still gets you clean with natural ingredients. I'll take it!
Good for the gym
Love the name! Smells rad. Love using one thing for everything. Easy in the mornings after I hit the gym
I love waking up with Morning Woodsy
I love waking up first in the morning, getting in the shower and putting the morning woodsy right in my hand. That's right, the morning woodsy scented body, beard and hair wash. It's funny and it does its job.
It smells like outdoor freedom.
It smells like the outdoors, if you're into that kind of smell, and not like the fake waxy outdoors that some soaps use. But the smell you get when you're actually out in the mountains. The subtle hint of freedom in the woods. I personally am into that kind of smell. If you are, get it, use it, love it. If you're not, then don't.
FREE SHIPPING ON ORDERS OVER $35
Cart expires in
00:00
minutes!