Accelerator Beard Oil 3 Pack - Island Rum+ Morning Woodsy + SandalWoody
Dude, treat yourself to the best-smelling 3-some of your life. And actually, SAVE money too!  Our Nutribeard™ Complex of all-natural nourishment instantly hydrates your beard while promoting healthy beard growth. Beard flakes & itching have no chance!
🚫 Fast-absorbing & non-greasy
🌰 Packed with natural Jojoba & Argan Oils plus Vitamin E

💦 Moisturizes, softens & conditions to fight flakes & itch
🙂 Soothes, calms & hydrates skin under beard

🏆 Promotes healthy beard growth for fuller-looking beard

Scents Included: Island Rum, Morning Woodsy & SandalWoody™
Put a few drops on fingertips. Work into the skin under beard, then out towards the ends of the hair. Got it? Skin first, then beard.
WARNING: For external use only. Keep out of reach of children. If any irritation occurs, discontinue use. Avoid contact with eyes. In case of contact with eyes, rinse immediately.
Sunflower Oil, Castor Oil, Avocado Oil, Coconut Oil, Olive Oil, Plant Seed Oil, Golden Jojoba Oil, Peppermint Essential Oil, Sweet Orange Essential Oil, Tea Tree Essential Oil, Vitamin E, Fragrance.
SCENTS IN COLLECTION
SANDALWOODY SCENT
This best-seller combines the hugely popular Sandalwood scent with a very special Derm Dude twist.
Smells like:
💪 Masculine, slight, new leather hint
🥘 Warm, spicy & exotic
🔥 Musky, woody like a happy camp fire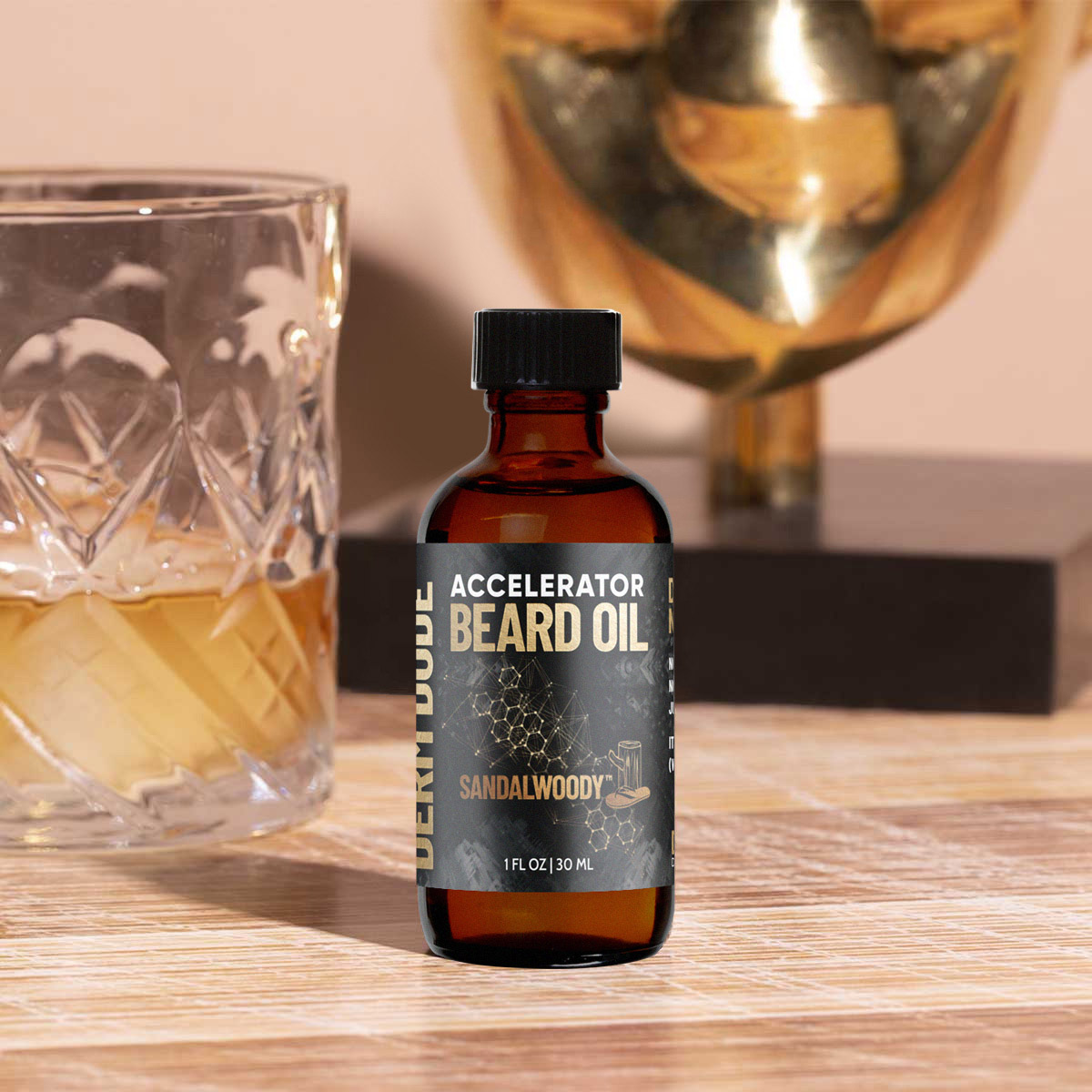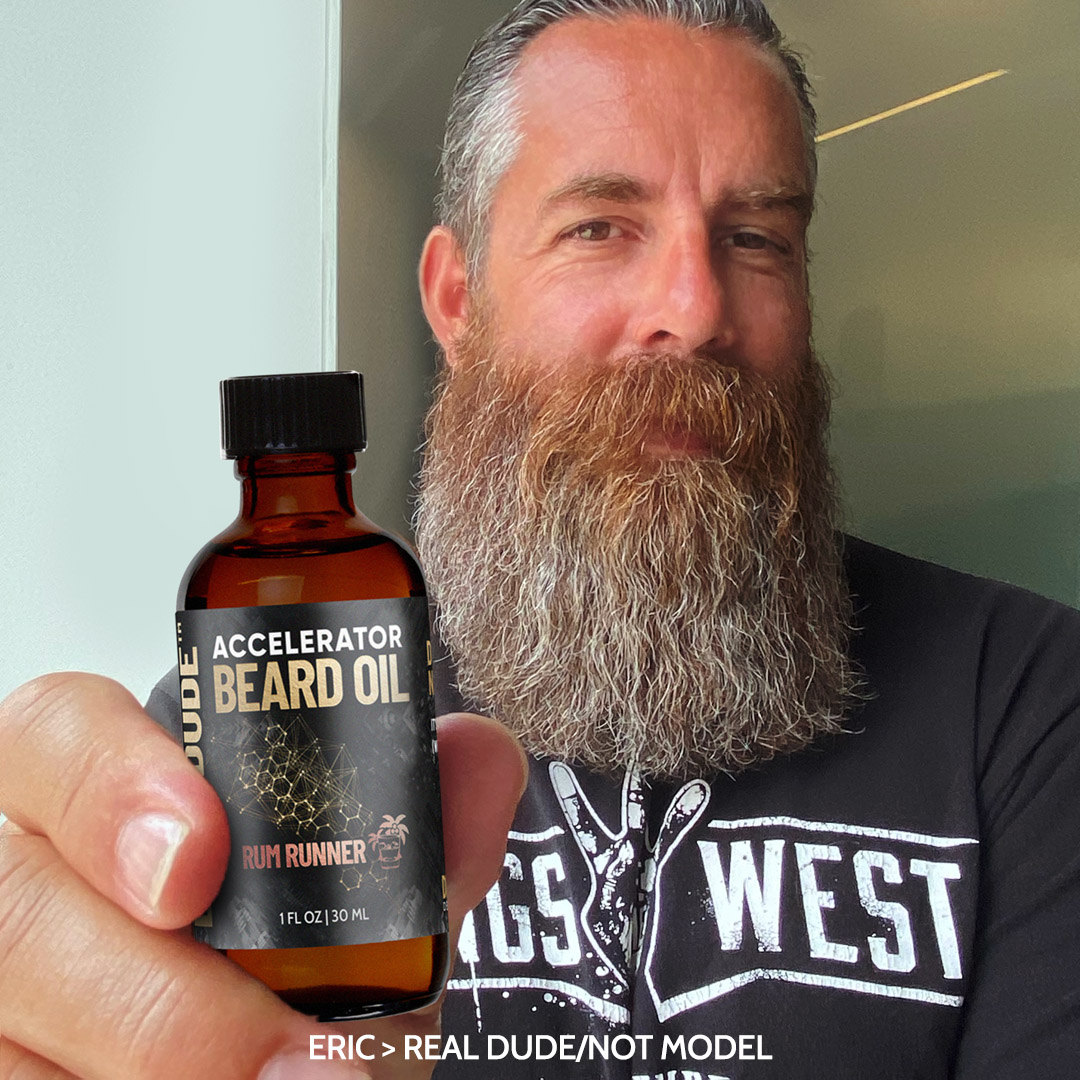 RUMMER RUNNER SCENT
Everything is more fun with rum dude! And now you can be soft, smooth and smellin' like a good time—even without the next day hangover.
Smells like:
🥞 Rum (duh)
🌴 Coconut
🍹 Creamy & Delicious
BOURBON RESERVE SCENT
Happy hour is 'every hour'—with Derm Dude's smooth, full-flavored Bourbon Reserve beard oil scent. A few drops and you (and your beard) will want to relax in a big, soft leather club chair with a freshly lit cigar. #DudeDream
Smells like:
🔥 Charred Woody Oak
🍯 Caramel & Honey 
🥃 Smokey Smooth Bourbon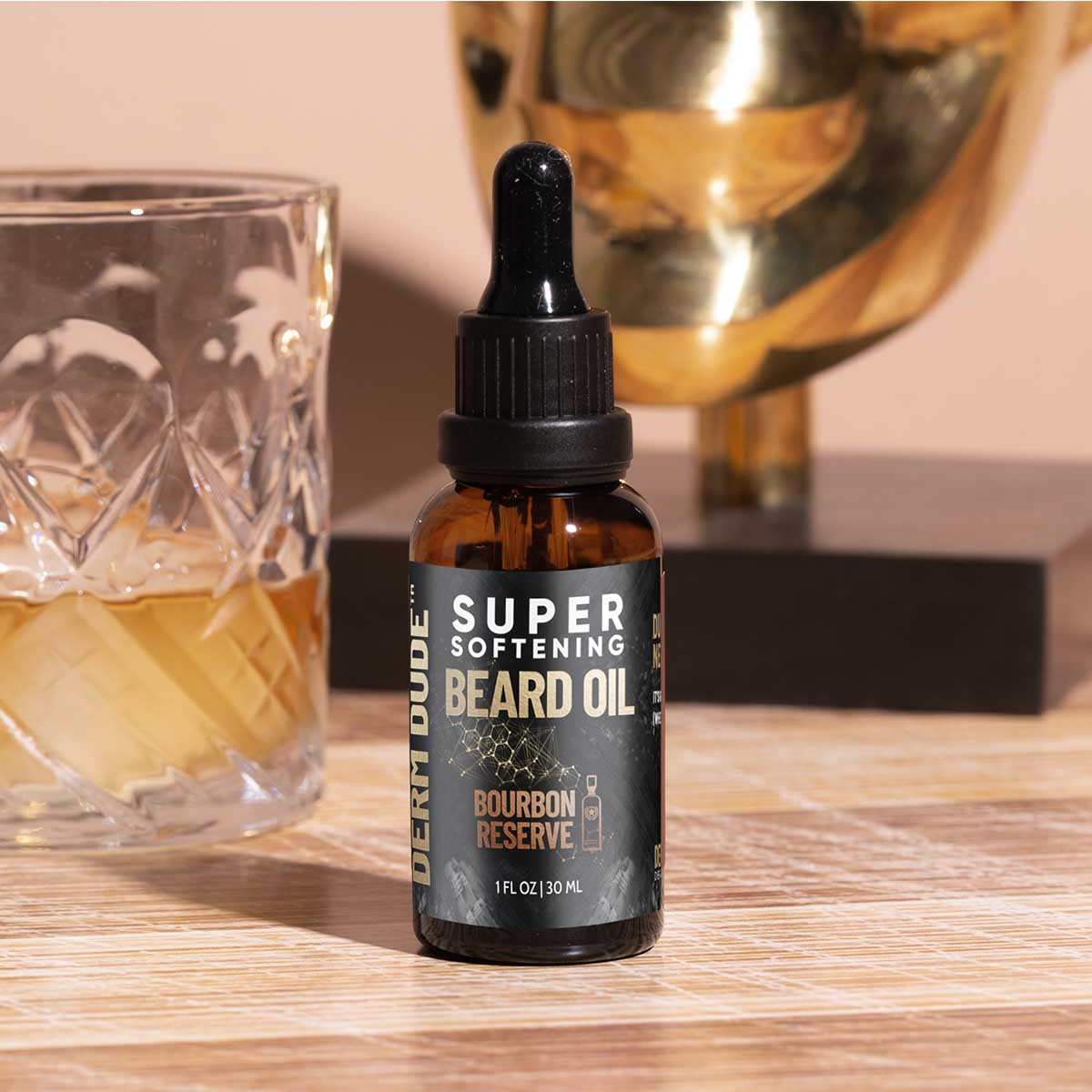 QUESTIONS? WE'VE GOT ANSWERS.
Bye-Bye Beard Druff!
---
The hair on your beard is different than the hair on your face and your body. Dude, you need a beard wash, and no, not a shampoo, bar of soap or body wash that will strip your skin and beard dry and lead to itchy flakey skin and beardruff.
Remove the bad and keep the good with Nourishing Daily Beard Wash, formulated with Nutri-Beard Complex™ to
gently remove dirt and grime while retaining natural oils for a softer, fuller, healthier-looking beard.
• Rich, foamy lather
• Cleanse without drying beard or skin
• Prevent beard druff (aka beard dandruff)
• Soften & nourish beard


ADD TO CART
They Say Men Are Dogs
---
Studies show that dogs are cleaner than the average
man's beard. Yep. That means your best friend, who's on the floor licking himself right now, is cleaner than your beard. Dude, you need to feed your face a foamy explosion of goodness called Derm Dude. Use it. Every single day.
Take care of it and it will take care of you.
Potent Ingredients That Work
---
Argan Oil
Superfood hydrator for face & beard that helps soothe and calm skin and promote a healthy shine
Jojoba Protein
Deep cleans skin and beard while helping to replenish and condition damaged facial hair
Jojoba Oil
Conditions & softens both facial hair and skin while strengthening the hair and cleaning the hair follicle, which helps maintain a healthy-looking beard
Aloe
Known for its healing properties, helps to calm itchy skin and promote a healthier, flake-free beard
Provitamin B2
Helps to support hair elasticity for a smoother-looking beard
Awesome 😎
I can see growing my beard especially in some area where was hard to grow
FREE SHIPPING ON ORDERS OVER $60
30 Day NO B.S. Guarantee 👊
Cart expires in
00:00
minutes!