Pit Stop Natural Deodorant - Cedar & Citrus
PROTECT YOUR PITS & YOUR PRIDE

Smells Like: Cedar, Citrus, Warm Wood
Men sweat. But we don't have to smell like s***. Leave the gym bag and locker room odors behind, and never ruin a shirt again with our natural deodorant. Your pits will smell fresh and stay refreshed all day long with our Cedar & Citrus scent.

NO Aluminum. NO sweat stains. NO B.O. 100% NO B.S.
🌱 NO Damn Aluminum, Natural
🐇 Paraben-FREE, Phthalate-FREE, Cruelty-FREE, Vegan
🛡 Freshens & protects pits while moisturizing skin
🗡 Blocks B.O. & odor-causing bacteria with natural deodorizers
🧬 Helps restore normal balance & pH levels
🧊 Smooth, easy glide application goes on clear — won't stain clothes
Twist applicator with 2-3 clicks. Apply deodorant evenly to your pits – both of them! Start at the center and work your way outward in all directions until both pits are completely covered.
WARNING: For external use only. Keep out of reach of children. Avoid contact with eyes. In case of contact with eyes, rinse immediately.
Propylene Glycol, Purified Water, Sodium Stearate, Lauryl Lactate, Zinc Ricinoleate, Sodium Lauroyl Sarcosinate, Tetrahydroxypropyl Ethylendiamine, Phenoxyethanol (and) Caprylyl Glycol, Fragrance
MAKES PERFECT SCENTS
Our natural, NO Aluminum Deodorant comes in four customized scents to make sure every dude has his own signature scents of smell – make scents? Doesn't matter what your vibe is—Derm Dude™ gives your pits some personality!


Cedar & Citrus
A blend of rustic cedar wood with bright and refreshing citrus notes to keep you smiling big (instead of smelling bad).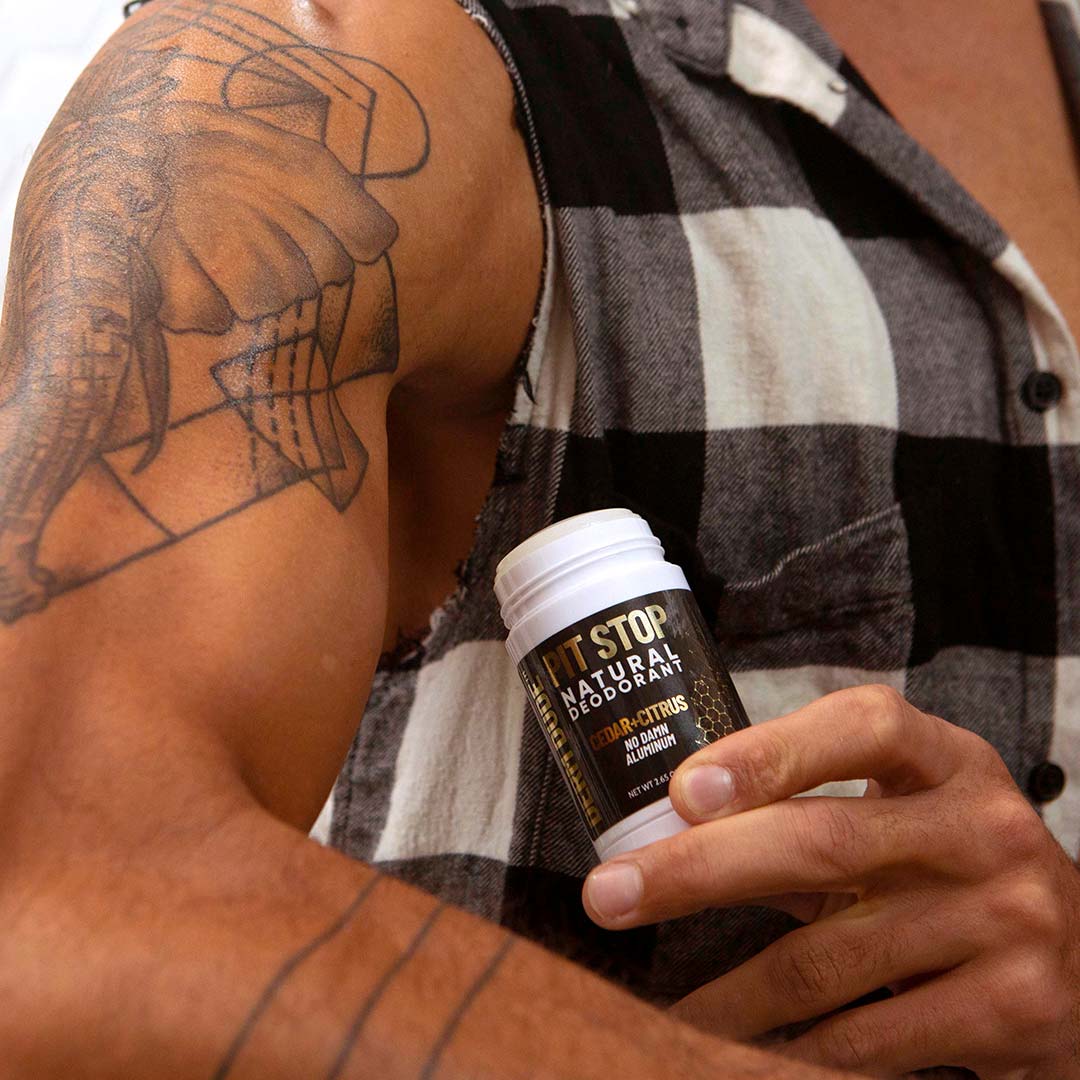 WITNESS-PROTECTION PROGRAM!
Smelling bad is the pits! So is staining your shirts. Our NO Aluminum, easy glide, natural deodorant goes on clear, keeping your shirts the same color as you bought them. Your pits and clothes stay dry, fresh and protected all day and night. It's an offer you can't refuse.
FACT: OUR PITS WORK AS HARD AS WE DO
Luckily, our deodorants perform like you! Our bold and righteous formulas harness the power and protection every man needs throughout the day to give the pits the perfect blend of clean and dry without the stank or the stains. Use daily to give your pits a fresh start so you can stay conquer life! Or play a video game.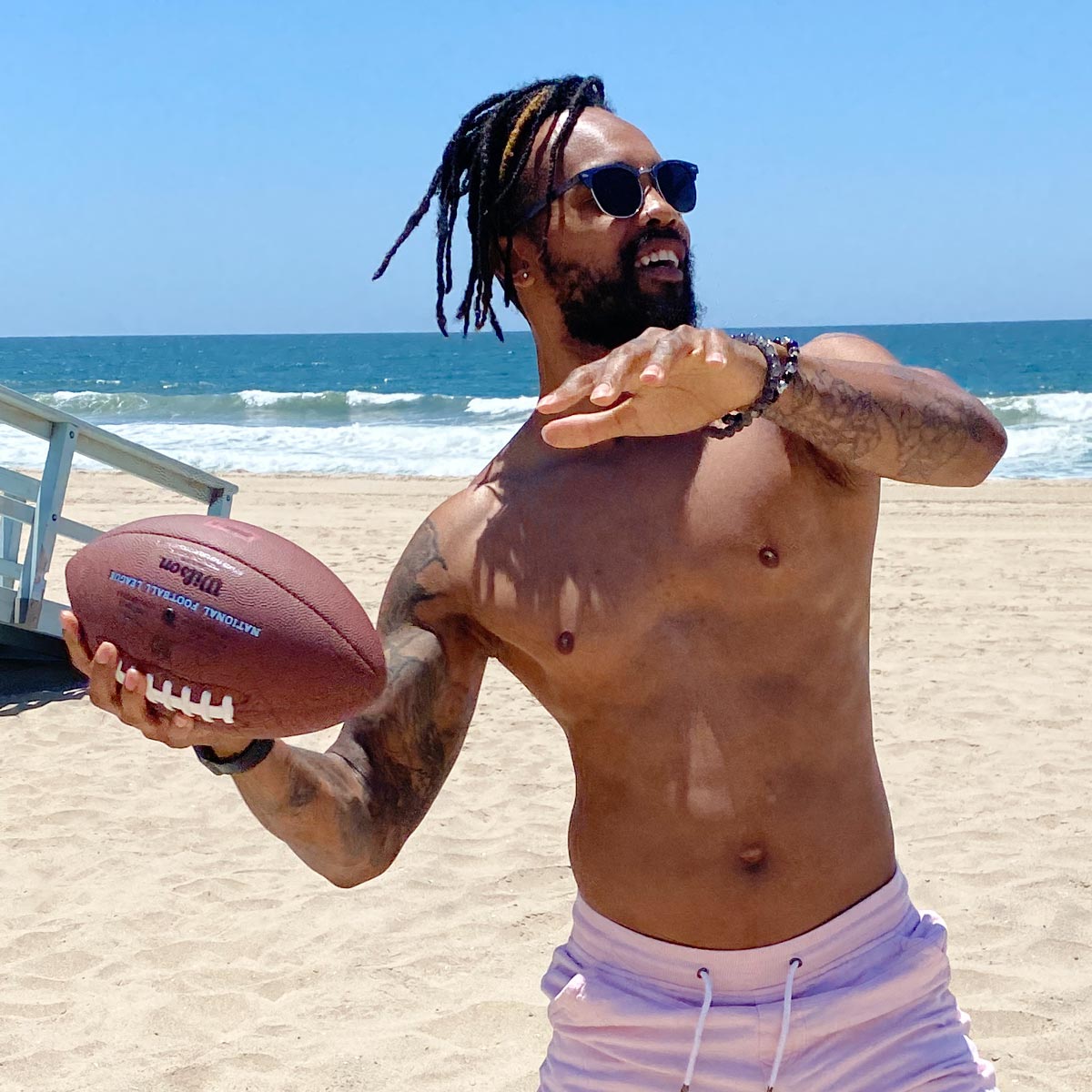 QUESTIONS? WE'VE GOT ANSWERS.
Bye-Bye Beard Druff!
---
The hair on your beard is different than the hair on your face and your body. Dude, you need a beard wash, and no, not a shampoo, bar of soap or body wash that will strip your skin and beard dry and lead to itchy flakey skin and beardruff.
Remove the bad and keep the good with Nourishing Daily Beard Wash, formulated with Nutri-Beard Complex™ to
gently remove dirt and grime while retaining natural oils for a softer, fuller, healthier-looking beard.
• Rich, foamy lather
• Cleanse without drying beard or skin
• Prevent beard druff (aka beard dandruff)
• Soften & nourish beard


ADD TO CART
They Say Men Are Dogs
---
Studies show that dogs are cleaner than the average
man's beard. Yep. That means your best friend, who's on the floor licking himself right now, is cleaner than your beard. Dude, you need to feed your face a foamy explosion of goodness called Derm Dude. Use it. Every single day.
Take care of it and it will take care of you.
Potent Ingredients That Work
---
Argan Oil
Superfood hydrator for face & beard that helps soothe and calm skin and promote a healthy shine
Jojoba Protein
Deep cleans skin and beard while helping to replenish and condition damaged facial hair
Jojoba Oil
Conditions & softens both facial hair and skin while strengthening the hair and cleaning the hair follicle, which helps maintain a healthy-looking beard
Aloe
Known for its healing properties, helps to calm itchy skin and promote a healthier, flake-free beard
Provitamin B2
Helps to support hair elasticity for a smoother-looking beard
Natural deoderant that actually works!
I bought a bunch of goodies from this site for my husband. This deodorant was one. I've tried it a few times & I'm back on here to buy one for myself. Usually natural deodorants don't work on me but this does. Feels & smells great. Not over powering. Just compliments me.
Goodbye aluminum
By now, most people know that aluminum isn't good when it goes on your pits. I try a bunch of natural deodorants and I like this one as much as any. It smells good and is natural.
FREE SHIPPING ON ORDERS OVER $60
30 Day NO B.S. Guarantee 👊
Cart expires in
00:00
minutes!